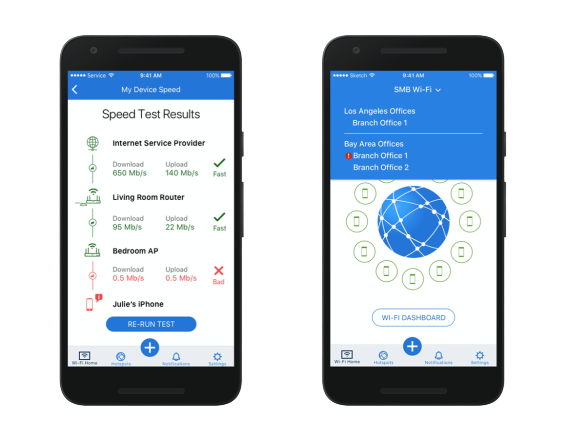 Enables seamless, secure, dynamic user authentication and automated Wi-Fi network association.
Enterprises and communication service providers can leverage neutrino8's blazeX as an end-user app, or as an SDK incorporating its functionality into their apps.
Provides organizations with rich, real-time insight, and historical and predictive data analytics to help optimize their wireless access network investment.
Communication Service Providers can leverage blazeX to significantly reduce inbound call center calls and resulting expensive technician truck rolls.
Option to perform as a self-provisioning, guided mobile onboarding app for non-technical users to help them set up wireless networks in their home or small business.
Key Features
Instant, secure, automatic authentication and association to the network
Available as an app, or incorporated as an SDK into existing apps
Tightly-coupled to leverage premium services delivery
Option for co-branding
Notifications with AI-driven suggestions
Key Benefits
Provides system-driven, secure authentication and automation connection to the enterprise access network
Can be used to effect role-based access, applying different privileges, messages, and notifications for staff, contractors, and guests
For SMB or residential networks, provides the end-user with easy, intuitive insight, management, and control of their Wi-Fi network
Reduces human error and complexity of setting up new residential and SMB networks
Delivers quality of connectivity experience
Can be leveraged by Communication Service Providers to reduce inbound call center calls and expensive truck rolls