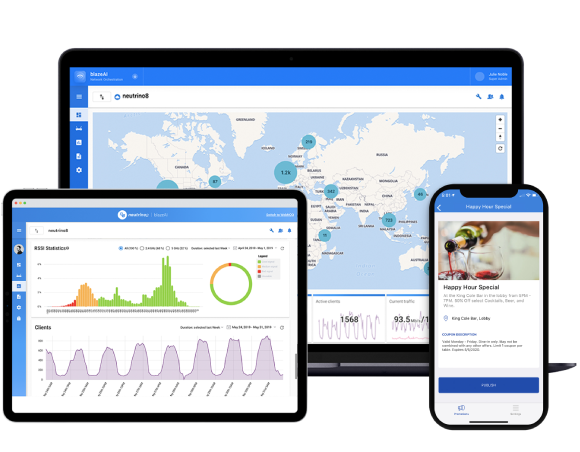 A cloud-delivered, hardware-agnostic wireless access network orchestration solution.
Disrupts traditional proprietary WLAN solution paradigm of artificially high hardware and operating costs.
Reduces access networking OPEX by up to 90% and CAPEX by up to 30X.
Establishes a foundation for premium, revenue-generating services.
Unique, hardware-agnostic, software-defined networking (SDN) architecture for enterprise-class wireless access networks.
Agile, lights-out solution can be provisioned and made operational in minutes.
Intuitive dashboards allow for real-time visibility of the entire access network anytime, anywhere for 24x7 monitoring, control, and optimization.
Delivers instant business insights via rich proactive and AI-driven predictive analytics focused on continuous optimization of the user's quality of experience.
Key Features
Extensible AI-automated, cloud-delivered, virtualized platform
Hardware-agnostic SDN framework
Continuous proactive and predictive access network orchestration focused on reliability, security, performance, and optimization of user QoE
Carrier-grade operational reliability and enterprise-class security
Seamless remote software upgrades
Built-in business intelligence
Real-time intuitive, on-demand visual and mobile "NOC"
Easy Wi-Fi + IOT node provisioning and configuration
Seamless and automated global secure authentication and roaming
Multi-tenant support
Managed Service Provider and Enterprise self-service modes
blazeTEK App for fast, easy Wi-Fi node provisioning, configuration, and deployment
blazeX multi-function mobile app, optional "personal NOC" and self-provisioning modes
Key Benefits
Freedom from constraints, high costs, and complexity
Freedom from expensive proprietary vendor lock-in silos
Built-in capabilities eliminate unnecessary, expensive proprietary vendor SKUs
24/7 AI-automated, lights-out, hardware-agnostic wireless access network orchestration
Simplifies implementation and automates operational complexity, reducing OPEX by up to 90% and CAPEX by up to 30%
Frees up organization resources to focus on other business priorities and needs
Continuously scalable and future-proof; always up-to-date features